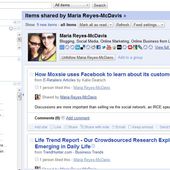 Use Google Reader's Shared Items for post ideas | MackCollier.com - Social Media Training and Consulting
Veteran blog readers have probably already discovered that Google Reader is a great way to keep up with the blogs you are subscribed to. But one of the features I get a ton of value from is the Shared Items from my friends.
http://feedproxy.google.com/~r/Mackcolliercom/~3/oPFvBCzv6sQ/
Mack Collier presents some practical uses for Google Reader.