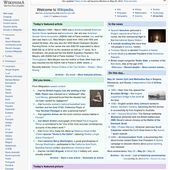 Wikipedia is an online empire and powerhouse. Searching almost any keyword, in any search engine, will typically show a Wikipedia listing near the top of results. So, should you list yourself on Wikipedia for marketing purposes? Of course.
Word of Caution
Wikipedia is a nonprofit which is focused on providing the best, most accurate, and unbiased information available. No offense to marketers but you're typical ad copy won't meet that standard.
Quality Content is the Key
When you post your brand on Wikipedia be sure the post is informative, factual and well referenced or linked. Follow Wikipedia's rules carefully. It's time consuming but well worth it. Wikipedia page views are in the billions per month and are highly ranked by Google. Appropriate links to your websites could boost your rank, SEO, and drive the right kind of traffic to you.
Posting on Wikipedia shouldn't be something you rush. Take your time, follow the rules, and you'll like the results.
If you have a Wikipedia story about your brand or your client, we'd like to hear about it.